Coleen Mull Inge
Coleen Mull Inge, 85, of Farmville, passed away on May 10, 2017.
She was born on October 17, 1931 to the late Thomas J. and Idah M. Mull.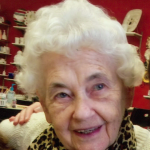 She is survived by her daughter, Rita Gail Leatherwood (Bryan Poole); Tom Inge (Julianna); four grandchildren:  Andrew Moody (Kim), Louie Mitchell, Rachel Inge, Mimi Inge; and one great-grandchild, Parrish Moody; brothers: Lloyd J. Mull (Betty), Frank D. Mull; sisters: Betty Massey, Ann Mull; and a special friend, Marylu Gates.  She was preceded in death by her parents, her husband Thomas Harris Inge Sr., and brothers: Thomas "Tink" Mull and Doug Mull.
Memorial contributions may be made to the American Cancer Society.
A funeral service was held on Saturday May 13, 2017 at the chapel of Puckett Funeral Home with interment in Southlawn Memorial Park in South Prince George, Virginia.
Puckett Funeral Home, Farmville served the family. www.puckettfh.com
You Might Like
Willye Webb Nixon passed away peacefully on Saturday, May 13, 2017.  She was born in Appomattox, on March 11, 1925... read more